We are delighted to announce that O'Flynn Exhams has been named 'Munster Provincial Law Firm of the Year' at the Irish Law Awards 2017.
The 'Munster Provincial Law Firm of the Year' award honours an outstanding firm of solicitors in Munster, who have demonstrated exceptional achievement in the law in 2016.
The Irish Law Awards ceremony, hosted by Miriam O'Callaghan, took place on Friday, 12th of May, at the Clayton Burlington Road. Over 500 people attended the Irish legal event of the year, representing national law firms and members of the legal profession who were shortlisted in over 25 different categories.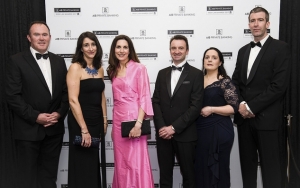 Speaking on the award, Richard Neville, Managing Partner, O'Flynn Exhams said: "We are delighted to have won this respected Irish legal award. Over the past six months, we have marked significant growth at the firm, with new senior appointments bolstering our corporate practice. We have been working to expand our operations and strengthen our team to meet the growing needs of our clients.
"These awards celebrate the very best in the Irish legal profession and it is fantastic that our hardworking team have obtained this recognition."