With the increase in popularity and accessibility of social media platforms and technology, the absence of legislative measures to combat issues of online abuse, cyber bullying and the sharing of intimate images without consent has come into sharp focus.
On 28 December 2020, the Harassment, Harmful Communications and Related Offences Act 2020 (the "Act") was enacted.
What are the key offences under the Act?
It is an offence to:
distribute, publish or threaten to distribute or publish intimate images without consent with intent to cause harm or being reckless as to whether harm is caused;
record, distribute or publish intimate images without consent; or
distribute, publish or send threatening or grossly offensive communication
What are the sanctions?
The sanctions under the relevant sections vary. A person who is guilty of an offence shall be liable:
on summary conviction to a fine of €5,000 or imprisonment which may range from 6 months to 12 months (depending on the relevant section of the Act); or
on indictment to a fine or imprisonment for a term (not exceeding two to seven years depending on the relevant section of the Act) or both.
Why is this of relevance for employers?
The Act introduces liability for companies and directors where an offence has been committed or where it is proven to have been committed with consent; or is attributable to actions of a director, manager, secretary or other officer of a body corporate or a person purporting to act in such a capacity.
Accordingly, an employer may be vicariously liable for the conduct of their employees where such conduct contravenes the Act and where such actions are committed in the course of their employment.
Is there a defence for an employer if circumstances arise where the employee commits an offence under the Act?
Notably, the legislation does not provide for an employer to rely on a defence, in respect of an alleged act done by an employer or an employee, where it is proven that the employer took such steps as were reasonably practicable to prevent the employee,
(a) from doing that act, or
(b) from doing in the course of his or her employment acts of that description.
What protective measures can an employer take and how can an employer mitigate their liability?
Employers must provide a safe working environment in the workplace for their employees. However, this is becoming increasingly challenging for employers where the traditional workplace has evolved to include remote working.
With the increased reliance on social media and online platforms for connectivity, the introduction of the Act presents a fresh set of challenges for the employer in monitoring workplace activities.
In order to mitigate potential liability in circumstances where an employee is alleged to have committed an offence under the Act, employers need to  be able to demonstrate that they have taken all reasonable steps to prevent an employee from engaging in such behaviour and from doing so in the course of their employment.
Employers should take protective measures to mitigate their exposure to potential liability. Employers should now consider undertaking the following:
familiarise themselves with the Act;
review and update employment policies (such as Bullying and Harassment Policy and Acceptable Usage Policy).
educate employees on the legal implications for engaging or sharing or distributing intimate images or sharing or sending grossly offensive communications; and
train employees to identify, prevent and report such behaviour to the Company.
Prior to the enactment of the Act, case law demonstrated the high bar that an employer must meet to demonstrate that reasonable measures were taken to prevent similar types of behaviour from occurring in the workplace.
In the WRC decision of a Beauty Therapist v Beauty and Hairdressing Salon, it was held that it is not enough that the employer has a policy for preventing bullying and harassment but that the employer also needs to have adequate arrangements and meaningful internal systems in place to adhere to the policy and that it is understood and adhered to by staff.
With the foregoing in mind, the introduction of the Act places a significant obligation on employers to assess the risk of liability placed on employers for the actions of their employees and how best to mitigate their exposure.
While due care has been taken in drafting this briefing, it should not be construed as legal advice.
Should you require further information or assistance on how to update your employment policies, please contact Elaine O'Flynn or one of the team listed below.
With special thanks to Niamh Carey, trainee solicitor, who assisted in the preparation of this article.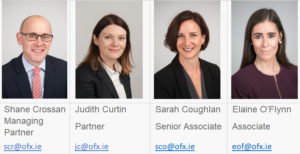 https://www.ofx.ie/wp-content/uploads/2021/01/office-620822_1920.jpg
1275
1920
Sophie Olsthoorn
https://www.ofx.ie/wp-content/uploads/2020/03/LLP-FINAL-PNG-300x90.png
Sophie Olsthoorn
2021-01-08 14:10:59
2021-01-08 14:10:59
Harassment and Harmful Communications – liability for Employers for the actions of their employees